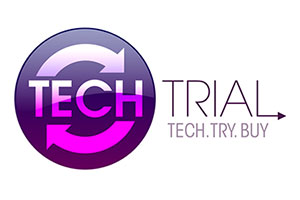 Dizzy was approached by director Tim Moody to plan and design his new e-commerce venture. Tim was new to the e-commerce market and needed lots of help and advice to get him on the right path.
Taking Tim's business plan and talking him through exactly what he wanted the site to look like and how he wanted it to function allowed Dizzy to create a site plan and recommend the right development partner for Tim to work with.
With the site plan in place Dizzy continued to work closely with Tim to produce detailed designs of the website, which were then passed on to the developer to create the bespoke solution he was looking for.
In addition Tech Trial required supporting printed materials in the for of flyers and adverts. These can be seen in our gallery.
You can view the live website at www.techtrial.co.ukand you can see Tim's testimonial video on the About page.
About Tech Trial
Tech Trial is a new breed of e-tailer created with you in mind. We offer you freedom, flexibility and guaranteed satisfaction via a unique purchasing facility. If you know what you want to buy then great, just go ahead. However, if you are uncertain and want to try it out first we have an array of the latest and greatest tech available on a Try before you Buy service, with no commitment to purchase.
Be it a Mobile, Camera, Tablet, Gaming System or Audio equipment we have hand selected the best and even give you the ability to express interest in items yourself, so take a look