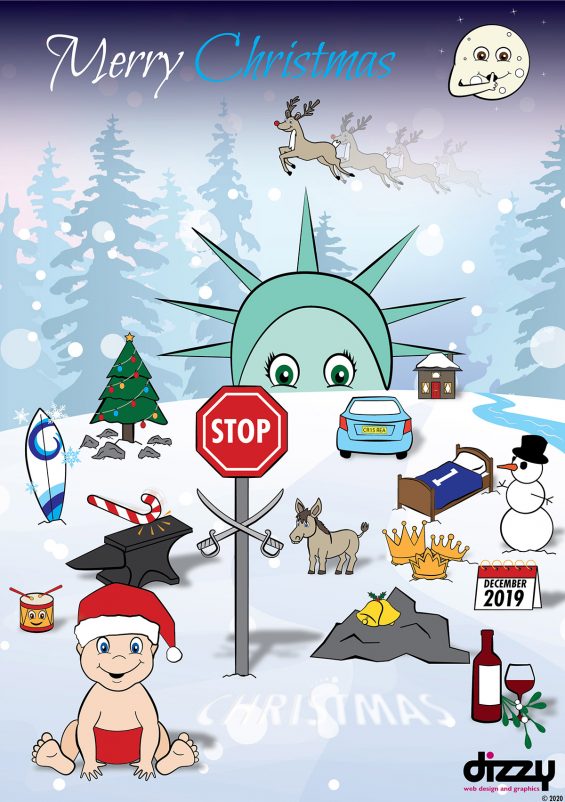 Dizzy will be closed for Christmas between 24th December 2020 and 1st January 2021. Please allow plenty of time for any work you need done before then, as it's choc-o-block right now.
Just for fun I've created a Christmas game for you. Take a look at the main image and see if you can find 20 Christmas songs or carols.
Good luck. Answers below.
Answers
1.     Blue Christmas – Elvis
2.     Silent Night – Joseph Mohr
3.     Run Rudolf Run- Chuck Berry (1/2 point for Rudolf the Red Nosed Reindeer)
4.     Fairytale of New York – The Pogues
5.     Rocking Around the Christmas Tree – Brenda Lee
6.     Driving Home for Christmas – Chris Rea
7.     River – Joni Mitchell
8.     Snow in California – Ariana Grande
9.     Stop the Cavalry – Jona Lewie
10.  One More Sleep – Leona Lewis
11.  Frosty the Snowman – Gene Autry
12.  Hard Candy Christmas – Dolly Parton
13.  Little Donkey – Eric Boswell (1/2 point for Dominic the Donkey)
14.  We Three Kings of Orient Are – John Henry Hopkins Jr.
15.  Last Christmas – Wham!
16.  Little Drummer Boy – Bing Crosby & David Bowie
17.  Jingle Bell Rock – Bobby Helms
18.  Santa Baby – Eartha Kitt
19.  Step into Christmas – Elton John
20.  Mistletoe and Wine – Sir Cliff Richard